The starting point for the perfect table setting is the right table linen. It's the basis for a beautiful, elegant table and sets the tone for dining environment and can help transform a room. Whilst some of you may question why linen is so important, it's worth reading a recent study in which diners attributed table linen to better service, ambiance and overall experience.
To ensure that you choose the right table linen you need to carefully consider the following:
Buying the correct size.
Ensure table cloths are the perfect fit by measuring each table carefully before purchasing. You'll need to measure the length and width and then allow an additional 20cm 'overhang' on each of the four sides. Go for a longer overhang if you want to create a more dramatic look.
Decide on the type of fabric you want.
Cotton table linen is popular, offering a crisp, sleek appearance. It is durable, absorbent, and easy to maintain. Because it has a long-life span, cotton offers great value for money.
Various colours and patterns are available but if you're looking to create a sense of opulence, satin band table linen is a great choice. Simple, elegant and luxurious, this is the type of table linen you'll find in prestigious restaurants.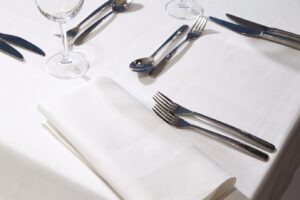 Polyester is another popular alternative, offering many of the benefits of cotton but with no risk of shrinkage. Whilst it is shinier in appearance, it has the added advantage of being easier to launder. Being lighter and less absorbent, it is quicker to dry and is crease resistant meaning that your table linen can be cleaned and ready to reuse in less time than it's cotton counterpart. Word of warning regarding though – polyester is manufactured from a cocktail of chemicals which some diners may be sensitive to.
Silk is another alternative, reserved for special occasions as this fabric is very delicate and hard to maintain so special care needs to be taken when laundering this product.
Choose the right colour and design
Consider the environment and the colour scheme of the dining area. A formal restaurant cries out for crisp white cotton table linen whilst casual, more rustic establishments call for some colour and pattern to reflect the style and atmosphere of this type of eatery. There are many patterns to choose from including elegant damasks and simple dobby weaves to create a look that complements the interior decoration of the dining area.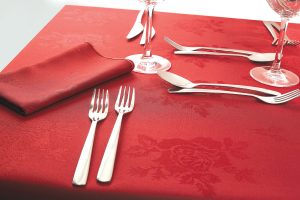 Just bear in mind that it's important that the colour you choose effortlessly coordinates with other furnishings in the room.
Maintenance and Stock
Ensure that you have enough stock to allow time for dirty table linen to be laundered so you'll need to buy more than the number of tables that you are catering for. Think about whether you will be outsourcing the cleaning of your linen to a professional laundry and ensure that you factor in the time it takes for them to do this.
If you're cleaning your own table linen ensure that you following the manufacturer's  guidelines for washing and drying their products.
If you need more detail on how to care for our range of table linen read check out us our help and tips section on our website TEXTILE CARE – Sherry Textiles (linensupplies.co.uk)